Proving the Untapped Production and Profit Potential of Ostrich
Compilation of Blue Mountain Ostrich Nutrition E-Bulletins
Authors:
Fiona Benson, Blue Mountain International
Daryl Holle, Blue Mountain Feeds, Inc.
INTRODUCTION
Blue Mountain introduced the Ostrich Nutritional Bulletins in December 1996. The objective remains the same today as the day they were first published. That objective is to help producers and all building a business based on Ostrich production to develop a greater understanding of the factors that control production, end product quality and profitability.
This compilation starts with Bulletin 87. Bulletin 87 set out to prove the link of genetic performance and nutrition. The remaining bulletins in this compilation are bulletins referenced that support the discussions raised in Bulletin 87 and prove the untapped production and potential of Ostrich.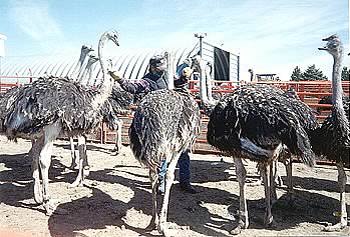 Chicks from First Ostrich Industry Bench Mark Weight Gain Study – 1996/1997
Fiona Benson has been a member of the BDOA since 1994. Over the years she has carried out considerable personal research on her own farm in South Africa and working with producers in a number of countries. She has written a number of papers and articles on different topics.
These documents clearly prove the untapped production and profit potential of Ostrich.